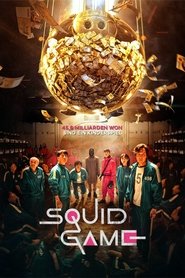 Hunderte von Menschen, deren Leben nicht so gut läuft und die dringend Geld brauchen, werden zu einem mysteriösen Spiel eingeladen – es winkt ein Preisgeld von umgerechnet 33 Millionen Euro. Zusammen eingeschlossen werden die Teilnehmenden mit in Korea beliebten Kinderspielen aus den 70ern und 80ern konfrontiert. Doch diesmal geht es um Leben und Tod – und nur einer kann am Ende gewinnen und sein Leben behalten.
Title
Squid Game
Alternative Titles
Le jeu du calamar, 鱿鱼游戏, 魷魚遊戲, विद्रूप खेल, Ojingeo Geim, Ojingeo Game, Squid Game, เล่นลุ้นตาย, Гра у кальмара, Squid Games, Round Six
First Air Date
2021-09-17
Last Air Date
2021-09-17
Number of Episodes
9
Number of Seasons
1
Genres

Action & Adventure, Mystery, Drama

,
Networks

Netflix

,
Casts

Lee Jung-jae

,

Park Hae-soo

,

Jung Ho-yeon

,

Wi Ha-joon

,

Oh Yeong-su

,

Heo Sung-tae

,

Kim Joo-ryoung

,

Anupam Tripathi

,

Lee Yoo-mi

Plot Keywords
,

Kang Sae-byeok / "No. 067"
Jung Ho-yeon